Local tree farmer grows the spirit of Christmas for 68 years
Veronica Burchell Published: November 26, 2020
SPENCERVILLE – Imagine spending a lifetime bringing the joy of Christmas to other people's homes. Eugene "Pud" Johnston has been doing that and more for almost 70 years.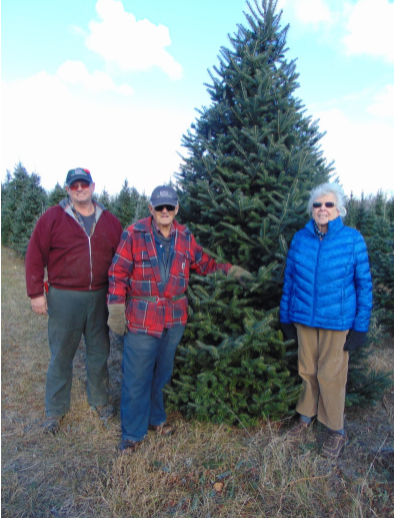 Johnston, a fit and enthusiastic 95-year-old tree farmer, owns 300 acres on Porter Road, just off County Road 44. Every year he opens the farm to people searching for the perfect Christmas tree. Johnston Brothers Tree Farm is known across Eastern Ontario as the place to go when the holidays come around.
"We bought the tree farm in 1952 for $6.00 an acre," says Johnston. "We will officially open again this year for the Christmas season on November 28; we are scrambling to get ready – we bring people in; we offer wagon rides, and you can cut your own tree."
He and his wife Sheila along with their son Kerry were at the farm last week to explain just how much work it takes to properly maintain a tree farm, especially one of this size. Kerry works here full time with his father, and his two teenaged sons work after school and on weekends. In a usual year, the family would bring in more workers throughout the year, but due to 2020's pandemic it was hard to find people to work for them. They have a small but trusted group of friends helping them get ready for this's year's holiday season.
"There is more work here than people realize," says Johnston, a professional forester who graduated the University of Toronto in 1949. "Planting, pruning and grass cutting are just part of it. This isn't a seasonal business."
Brothers hand over reins of tree farm in 2001
Family Christmas tree operation celebrates
half century in business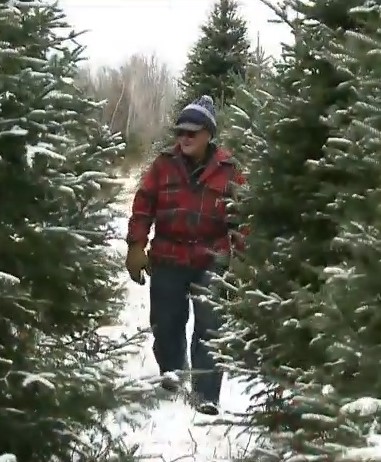 NORTH GRENVILLE The 50th year of Johnston Brothers Christmas Tree Farms will see a change in ownership of the business located south of Kemptville.
Brothers and current owners Eric and Pud Johnston, born and raised in Prescott by Arthur and Violet Johnston, will hand over the reins to Pud's 33year-old son, Kerry, after the Christmas season.
We'll keep helping but Kerry (of Brockville) will take It over,' run says,we wanted to make it 50 years. We could run it for a while yet but he can make the decisions now."
Eric traces his interest in the business back to when the boys were growing up, when their father worked at customs and noticed a large amount of Christmas tree traffic going in and out of the country.
"He was a bit of an influencing factor for us," Eric says.
Pud, nicknamed at the age of four after the Regular Fellas comic strip character Pud Simpkins, adds that he and his brother would go to their uncle's farm in Roebuck, cut Christmas trees and sell them in Prescott.
The brothers moved out of the Prescott area in the I 940s and went on to work for the Ministry of Natural Resources (MNR), Eric in fishing and wildlife and Pud (formerly Eugene) in forestry.
"Being in forestry, you have a bit of insight into what's going on," says Pud.
That insight led to the origin of the farm in the early 1950s. Scotch pines, an European species, became very popular around that time, Pod says, as people had turned to local plantations for Christmas trees.
"During World War Two, there was no fuel available for transporting Christmas trees," he says.
The Johnstons purchased their land from Jenny McNillage in 1952, land that was written off for farming potential but land that the Johnstons felt was ideal for scotch pines.
The farm sold wholesale as far as New York City, Toronto, Ottawa, Cornwall, Montreal and even Florida. However, so many people became interested in scotch pines, says Pud, that there was a surplus by the mid 1950s.
"I think 1957 was a real turning point," he says. "The price fell and it was difficult to sell. Some people were selling their trees for 25 cents but we refused to sell for less than one dollar."
The slow period discouraged many scotch pine farmers and the Johnstons enjoyed "their most profitable time" from the mid1960s to the early 1980s.
After nearly 35 years of exclusively wholesaling their trees, the brothers introduced the "U-cut" concept to their customers in 1986. Both men had recently retired from the MNR and returned to the Leeds-Grenville area.
"We had been running the business by remote control as absentee owners," Pud says. "Moving back and being around
gave us the opportunity to run a cut-your-own operation."
The Johnstons expect to sell more than 1,000 trees this Christmas season through "U-cut," compared to approximately 200 in 1986.
"We worked hard at publicity, and we had great support from family," Pud says. "Cut-your-own made quality trees available for natural tree users. We save our best for our cut-yourown customers and they keep coming back."
The brothers offer balsam and fraser firs, which have become popular recently. Pud says he recognized the growing popularity of the trees in 1987, and the farm "got in at the ground floor."
Since it takes ten years to grow a Christmas tree, their early perception and quick action has allowed them to offer balsam and fraser firs for the last several years.
Although this may be their last year officially "running the show," don't expect the Johnstons, both in their seventies, to disappear from the business altogether.
"We're both in excellent health, we keep active and it's a reason to get up in the morning," says Pud. "I'm sure our good health is because of the farm. We'll still be out cutting the grass and planting and doing other stuff."